A non-exhaustive list of my favorite Olympians.


Walter Spearmon
– You're telling me that in every round of every race run at the 29
th
Olympiad, not a single person stepped out of their lane, but in this race, TWO medal winners did? Innnnteresting.
Seriously though – poor guy. He was my track boyfriend before he ran so well anyway, and then watching it all fall apart made me feel for him even more. What the hell NBC interviewer? "You're going to
protest
?"
But seriously – Track. Boyfriend.
Shelly-Ann Fraser

Pure joy. She is so adorable. And kind of fast.

Shawn Johnson -
I just want to keep her in my pocket – how could you ever have a down day with her being so perky and supportive all the time? And she was
so cute on Ellen
(Is it just me, or is everyone cute on Ellen? She has to be the most affable talk show host ever, and the absolute best at putting her guests at ease.).
Aaron Piersol – Dude, it's cool. I'm just gonna swim these races and you know if I win, I win, if I don't, I don't, and it's cool man, because I'm just a laid back kind of dude with rockhard abs.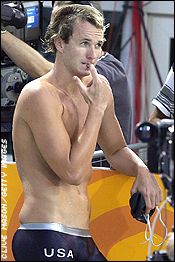 Kerri Walsh – She talks so fast when she's excited and it's adorable. I love that she and Misty May clearly actually like one another and are friends, and I think it's obvious that that's why they're so indisputably awesome at what they do. And I get the feeling that Kerry is kind of the heart of the team – just by how she speaks for them in interviews, and how she immediately goes to Misty to celebrate:
I also think that Kerri really had to elevate her game to match (and maybe now have surpassed?) Misty when they started playing together. So yeah, go have your babies – but hurry, so they'll be of a reasonable age for you to start training hardcore again for 2012.
My least favorite Olympian? This guy: